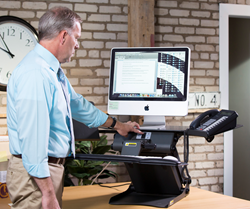 HealthPostures is committed to developing and advancing equipment that improves the physical health of workers
TOPEKA, KS (PRWEB) SEPTEMBER 21, 2015
HealthPostures, a front runner in the ergonomics and healthy workplace initiative, is scheduled to support the expansion of a culture of safety by appearing at the 66th Annual Safety and Health Conference. The conference will be held October 6-9, 2015 at the Capital Plaza in Topeka, Kansas.
In addition to strengthening the knowledge about the importance of workplace mobility, proper desk and body alignment and musculoskeletal health, exhibitors like HealthPostures' appearance benefit school districts, private businesses and state agencies. HealthPostures is committed to developing and advancing equipment that improves the physical health of workers.
Leading ergonomics and safety products developed by HealthPostures include sit to stand solutions, specifically the 6300 TaskMate Go, the 6100 TaskMate Executive and the 6400 TaskMate EZ. Other products manufactured by HealthPostures that may be exhibited at Kansas' 66th Annual Safety and Health Conference are the TaskMate EZ Clamp, laptop holders with flat screen monitor arms, the TaskMate Go Organizer and monitor mount accessories.
Healthcare professionals, startup business owners, seasoned entrepreneurs, corporate executives, non-profit leaders and government agency specialists will be able to see HealthPostures' products up close at the conference. They will also have opportunities to ask executives and innovators at HealthPostures questions about their technology.
Agenda items for the four day conference cover pertinent topics like safety from management's perspective, significant OSHA changes and enforcement, boiler safety and training and legal perspectives around health and safety. Workshops, professional development classes and a general session are also being built into the four day conference.
Government organizations, private firms and keynote speakers and trainers slated to attend range from Lowen Corporation, Burton & Associates, Westar Energy, Dr. Julie Dainty, professor at Pittsburgh State University, Nancy Larson, pollution prevention specialist and EnviroServe Corporation. Oversight for the conference relies under the Kansas Department of Labor. Aim of the conference is to promote a culture of safety throughout Kansas at private and public organizations. October 5, there will be a charity golf tournament. Profits generated from the tournament will support Pittsburgh State University students who are preparing for careers in the environmental and safety management field.
About HealthPostures
HealthPostures LLC (https://healthpostures.com) specializes in the design, development and manufacturing of workplace safety ergonomics products and equipment. For nearly 20 years, the company has built the equipment that is helping people to stay healthy while they work. The firm has developed pioneering ergonomic sit stand solutions since 1996. A key mission of HealthPostures' is to "strive to provide quality products that will help transform your sedentary life so you have a healthy way to work." Office solutions sit stand products HealthPostures designs and manufactures include dual monitor sit stand work stations, adjustable mouse stands, dual monitor arm accessories, Stance move seat extensions, industrial surface Taskmates and Stance Move chairs.